Anx1ous
Join Date:

8/26/2015

Posts:

2

Member Details
Much like sockets will always be included on primals (with the exception of weapons where you would just use Ramaladni's Gift), certain affixes could be EXCLUDED from the rollable affixes list to maximize usefulness of a primal ancient.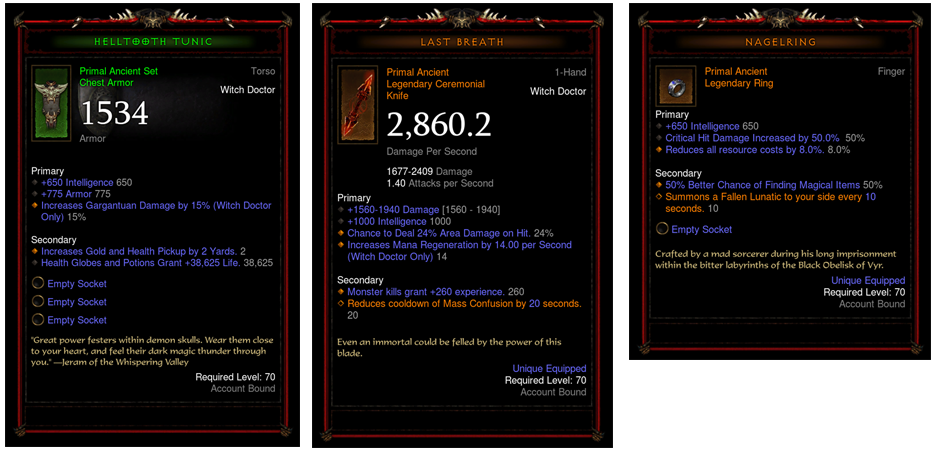 Take a look at the image above, particularly the Last Breath ceremonial knife in the middle. An otherwise decent roll, with the exception of Monster kills grant +X experience secondary affix. Instead, it would make more sense to have the weapon roll with either +X maximum mana, +X life after each kill or any of the +X% chance to X on hit modifiers.
Considering the abysmal drop rate (by Diablo III standards, at least), here's a list of modifiers that, in my opinion, would feel out of context on any primal ancient item, regardless of the build it is used for:
+X% extra gold from monsters – Even though extra gold would boost the toughness gain from Goldwrap, you are pretty much immortal anyway when running around with that belt. And if you really need to farm for gold quicker, then you'll most probably be using a different gear for that end, without actually sacrifing a precious affix slot on a hard-earned primal.


Monster kills grant +X experience – Relevant only for new characters who want to level up quicker. Even then, you have other options such as socketing Gem of Ease into your weapon or having a friend boost your character to level 70.


Level requirement reduced by X – Again, relevant for new characters only. If you've beaten GR 70 solo (to even find a primal ancient in the first place), then it already means that you're level 70 and this affix wouldn't benefit you much.


Ignores durability loss – I suppose this would be handy if you died a lot in higher GR-s and wouldn't want to waste time or money on repairing, but, in that case, a primal that doesn't keep you alive isn't up to the task anyways.


+X% chance to inflict bleed for X% weapon damage over 5 seconds – Never seen this primary affix actually used in a build. If bleed effect is required, then Pain Enhancer gem seems to be your best friend, rather than sacrifing that precious primary affix slot on your weapon.
Plain and simple, the affixes mentioned above wouldn't be available when the primal ancient is being first generated. If you so wish, you could reroll an affix to one of them, but I doubt anyone would do that.
Just wanted to hear your opinion on this kind of approach.
(Apologies if this has already been discussed in detail before – I looked through a couple of threads related to primal ancients, also the comments on the news articles related to primals and didn't notice much discussion on redundant affixes.)