Vakgraun

Faithful
Join Date:

8/22/2012

Posts:

14

Member Details
Hello fellas, I'm a avid reader of the forums and never found a reason to make a post until now.
In the last 2 month I've got back into the game and I'm having a blast playing it. I really dig the direction that blizz took on the last months, I feel the game enjoyable again.
My main doubt right now is which way to go with my weapon, I'm loving my Skorn but I need to get more survivability so I need to move to LS, cos the 1.2k LOH isn't keeping me alive.
My doubt is if I should go with a equal Skorm but with 5.5% LS or switch to dual wielding (Echoing Fury and Won Kin) the problem is that I only have like 25/30 million to spend on weapons. I think taht 30 mil won't get me a descent Echoing Fury and Won Kim with a descent amount of dmg and LS.
So I'm open to some advise cos I fell very lost right now about which direction I should go.
Here is a Screenshoot of my Stats and the link to my D3 Profile
Screenshoot: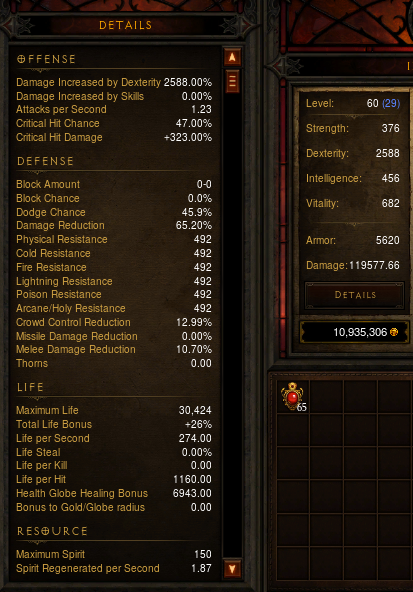 Profile
http://us.battle.net/d3/en/profile/vakgraun-1249/hero/2677323